As you set out for Itaca
Hope the voyage is a long one,
Full of adventure, full of discovery.
(translated by "Translated by Edmund Keeley/Philip Sherrard")
Why is it important to perform secondments during your PhD?
Well, a PhD cannot be considered just a normal job. It is an experience of life that forced you to think on a different way. Improvement of technical and soft skills is required. The first one of my secondments was in the ITACA Research Institute at the Technical University of Valencia. After one year into the University of Zaragoza, I thought to know something about microwaves heating. Being in Valencia helped me to open the eyes, becoming conscious that I analysed only one short chapter of the infinite world of microwaves. Thanks to the patience of all the staff, I started to learn something more from a different point of view.
Do you think that the dielectric constant is really constant?
ITACA gave me the opportunity to measure the dielectric properties of several materials as a function of temperature, by using an extremely precise dual-mode cylindrical cavity. You can trust me… the dielectric constant is not constant.
Do you think that is it simple to simulate and produce a resonator?
This was a nightmare for me during the last month. In every PhD there will be something that doesn't work or so difficult that you feel powerless, sometimes depressed. Don't worry… it is a common mood. A PhD is not only made by results. For sure, I am not an expert after only three months, but honestly, I have learnt a lot of things! I will always be grateful with all of them for their daily advices, Beatriz, Pedro, Gabriel, David, José Daniel, professors Català and Peñaranda and to Isidora for the excellent management of the bureaucratic part.
But the secondment is something more… Living in another Spanish city, knowing different traditions, trying new food, learning new words and so on. Valencia is a wonderful city, not only for a holiday. If you have the opportunity to plan there an Erasmus or an internship, there are many initiatives, the city is dynamic and the Technical University has a lot of facilities. Furthermore, if you work with microwaves I suggest you to follow the progresses of the ITACA's team, an excellence in Spain not only for their professionalism but also for their hospitality.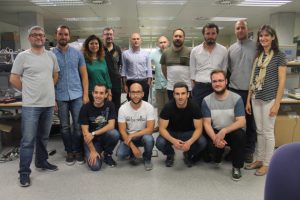 Website of ITACA : https://itacadimas.wordpress.com/about-us/
Roberta Manno, University of Zaragoza