Arenberg Doctoral School is proud to invite you to Meet The Jury!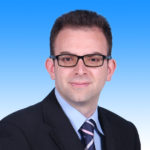 When internationally renowned experts visit KU Leuven as a member of a PhD Examination Committee, we like to seize this opportunity to give this expert a forum to a large audience. All members of Science, Engineering & Technology are most welcome to the Meet The Jury Lectures.
Rafael Luque (Universidad de Cordoba) will give a lecture on "Benign by Design – Processes for a more Sustainable Future".  Following the lecture, there will be opportunity for young researchers to interact with him.
Venue: Curie 0.118, Leuven Chem & Tech, Celestijnenlaan 200F,  Heverlee
Date: 7 September 2017, 11h15.
Rafael Luque is visiting KU Leuven at the occasion of the PhD defenses of Felix Schröder.